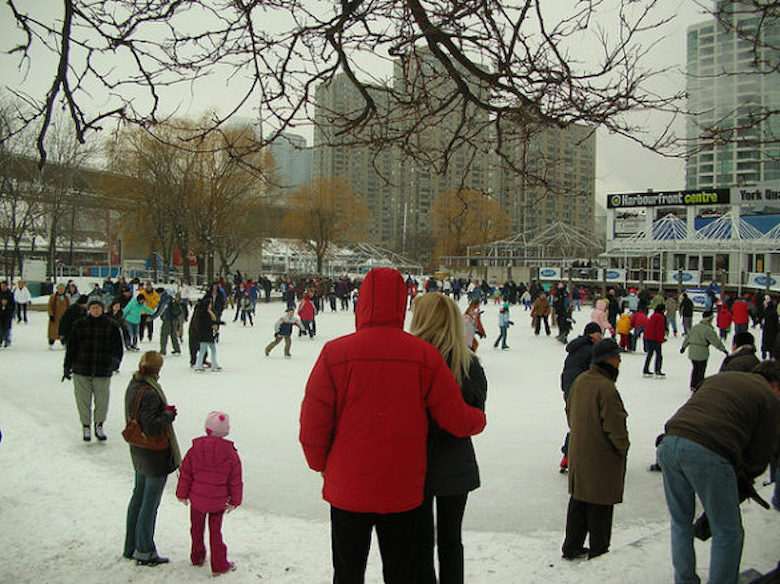 Harbourfront Centre's skating rink has been an iconic feature on the Waterfront for decades. Generations of skaters had their first steps on the ice here, and their memories of the beautiful setting by the lake remain strong. When Harbourfront Centre suddenly announced January 10 that the rink was closing for good, response was swift. A petition to restore this Waterfront gem got over a thousand signatures right away. Strong opinions followed on TV, newspapers and websites, pointing out that the rink had disappeared without public consultation.
Harbourfront Centre CEO Marah Braye said the board had made an irreversible decision and that equipment was ready to start demolition. The rink, which becomes a paddle pond in summer, could not be restored due to lack of funds, she explained. The Federal Government had recently donated $20 million for repairs on the ten-acre Harbourfront site, which includes the skating rink. But those repairs proved too costly, so it was scrapped. 
YQNA Chair Angelo Bertolas told CP24: "The skating rink is a wonderful place to spend some outdoor time getting exercise and fresh air along the water's edge. The Waterfront desperately needs winter activation for the many condo dwellers, visitors and tourists." Kevin Vuong, MP for the Waterfront, heard the outcry and called for a town hall meeting February 3rd. It took place in the Waterfront Neighbourhood Centre and confirmed public anger over the demise of the ice rink. Plans to turn it into "a completely updated new plaza" for staging events met with scepticism, because Harbourfront already has several outdoor event spaces. Vuong had talked with a corporate donor who was open to supporting the skating rink, news that was warmly received.
Bertolas says, "Harbourfront Centre is a crucial component of Toronto's Waterfront, which attracts millions of tourists to the city and is a gathering place for residents from the entire GTA." YQNA is the voice of the community, so he is establishing a Community Liaison Committee with Harbourfront to keep open communication that will protect gems like the skating rink and other attractions that draw the broader public to the Waterfront.