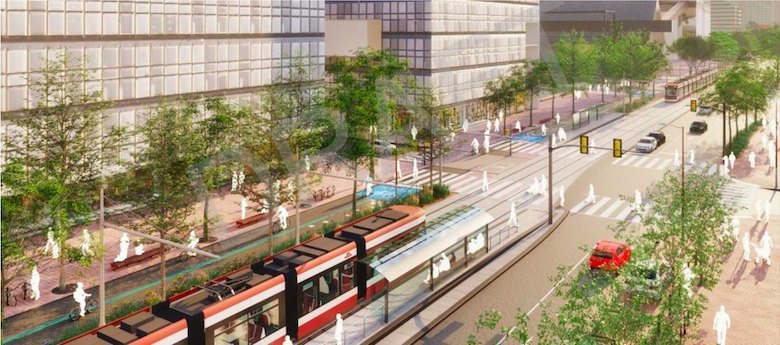 Our interim City Councillor, Joe Mihevc, wasted no time in contacting YQNA and other downtown neighbourhood associations to discuss a staff report headed to the Mayor's Executive Committee on June 8, 2022. The subject was "Advancing City Priority Transit Expansion Projects – Eglinton East Light Rail Transit and Waterfront East Light Rail Transit." With a long history on City Council and sitting on the TTC Board, Joe was quite familiar with these transit projects. He was seeking community support for his motion of pushing for more funding to get the Waterfront LRT studies completed sooner to a higher level of design, so that construction funding could be secured.
YQNA sent a supportive letter to the Committee, as did several of our neighbours. At Council on June 15, 2022 Joe's motion was adopted:
"1. City Council direct the City Manager to determine potential undertakings to expedite the budgetary and design processes for the Waterfront East Light Rail Transit line. 
2. City Council direct the City Manager to engage with officials of the Provincial and Federal Governments to identify and secure funding to advance the Waterfront East Light Rail Transit line as expeditiously as possible."
YQNA sits on the Stakeholder Advisory Committee (SAC) for this project. We received an update on the status of the study on June 20, 2022 following the report to Executive Committee and Council. Further public consultation is planned for Fall 2022.
The design work of the LRT is at the 30% stage. This means that the basic route and concepts are established, and preliminary costs can be estimated. However, many details remain to be worked out, and the current focus is on "value engineering", which means eliminating parts of the project to save money. YQNA expressed concerns with some of these proposals, such as deferring the canopies over the tunnel portals and reducing the improvements to the Union and Queens Quay stations.
The tunnel construction for the LRT is under TTC's control, while the surface sections of Queens Quay East and Cherry Street are done by Waterfront Toronto, as is so much of the successfully completed Waterfront. A new tunnel under Queens Quay East will be built so that streetcars can run continuously along Queens Quay, even as the tunnel to Union is being renovated.
City Staff were seeking authority to review what can be constructed in light of other projects along the LRT route. They expect to report back with a new cost estimate and a funding, financing and implementation strategy next year. The City's own report on the Next Phase of Waterfront Revitalization is also expected next year.
YQNA continues to monitor this study and to work with staff and the Councillor's office to ensure the best possible outcome for our wonderful Waterfront.