Removal of Gardiner Ramps
— as seen and photographed by a Waterfront resident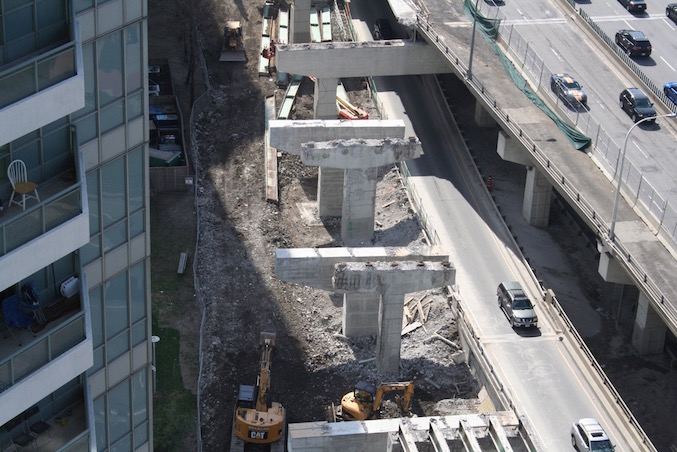 Last Saturday was quiet at the ramp removal site. Just the background hum of traffic and the City, plus the beeping of the huge cherry-pickers as the workmen cut the steel beams off their bearings in a shower of sparks.
Most weekdays are different, when a hoe-ram – which I call the Great Beast – uses its single mechanical tooth to break up the concrete and asphalt roadway on the doomed ramp off the Gardiner to York, Bay and Yonge. Its work is done up to the west edge of Simcoe Street. Next to go will be the ramp that leads to Bay Street and the one that circles down to York Street and Queens Quay, where a lovely park will be created.
It all began 12 years ago, when some YQNA members asked the City if all these ramps were really needed. Fast forward to 2008 when the City finally began to review that very idea, and decided that they could be removed if a new ramp was built to Simcoe Street instead, and if Harbour Street was improved. More recently, Councillor McConnell found money to get the project going. So on April 17, 2017 at 5 am the ramp was closed forever and the demolition began.
This is what I see from my windows: first, the Great Beast cuts off the parapet; then it destroys the deck, pushing the rubble down between the beams. Surprisingly delicately, it cleans the beams of concrete and cuts off the smaller steel ties between them. This is VERY LOUD. All the metal is going to be recycled, I assume.
Next, the beam crew comes along and cuts the beams off the pillars. Other workers clear up the concrete rubble and ensure that dust is kept down and the public kept safe. A huge magnet collects up the small pieces of steel and drops them into a dumpster.
This urban renewal project will be completed in January, 2018, when the new down-ramp to Simcoe will open to traffic. Meanwhile many residents will live with the noise and traffic congestion. Fortunately, we are well trained from the recent three years of redesigning Queens Quay. Here is more information about how the ramp removal will affect us now and in the future.